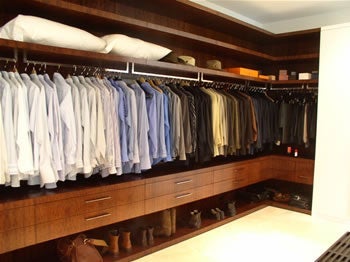 At first glance your closets may seem like insignificant or unassuming rooms in your home. The truth is, however, that closets can be real selling features. Homes must have storage. From clothes to food to cleaning supplies, closets are the heart of every clean house.
The first order of business in revamping your closets is to get rid of the clutter! We all are a little guilty of holding onto clothes and other "valuables" that we no longer need. These superfluous items can make closets burst at the seems and can turn a ready and willing buyer off.
Downsize these items by holding a yard sale, giving them to charity, or gifting them to family and friends. Chances are you'll never miss the items you give away, but your closets will breathe a sign of relief!
With all that extra clutter out of the way it's now time to get organized. Even cheap fixes can make a real difference.
First, organize your closet by color blocking your clothes, grouping like items, and sorting smaller items into storage totes or even labeled shoe boxes. You can also store away winter/summer items in the garage in the off season.
Tame your shoes with shoe racks. You should always be able to see the floor of your closet!
Are you needing to organize your pantry? Use the same principles as with your bedroom closets. Remove unnecessary items, get storage totes for small and miscellaneous items, and them group like items together.
Every closet needs shelving and racks. Depending on your budget and your housing market there's a wide range of choices. Simple and inexpensive Rubbermaid shelving can be configured in a myriad of patterns and can be installed with nothing more than a drill or screwdriver.
If your budget allows, however, custom built-in units can wow your potential buyers and put your home at the top of their list. Taking it one step further if you have a walk-in closet. Walk-ins are super selling points in a home, so it's time to maximize the potential of this space.
The main key with closets is to allow buyers to see the true size and functionality of the space. You don't want them to be overwhelmed by your junk the minute they open a door and yes, they will open the closets! Instead, let them be inspired by your organization!