Neighbourhood Tours
 > White Rock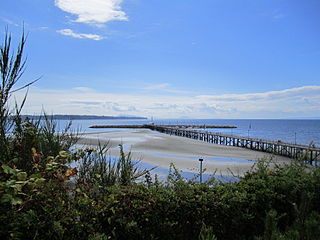 With a population of 18,250, White Rock is located in the southwest corner of the Lower Mainland, forty-five kilometres from Vancouver and only five minutes to the Canada/US border. White Rock is an exciting seaside community clustered around an eight kilometre sandy beach and the warm shallow waters of Semiahmoo Bay. Because of its moderate climate, White Rock is a preferred retirement spot. Average summer temperature is twenty-three degrees Celsius while the winter average temperature is Six degrees Celsius.
The waterfront includes a promenade that is two and a half kilometres, fully accessible to the disabled and parents with strollers. The heritage pier, train station, large beached "white rock" and colourful sidewalk cafes create a special ambience throughout the area. Commercial meets residential along the waterfront as well as in the Town Centre where you will find a number of apartment buildings with retail stores on the ground level. A variety of specialty shops dot White Rock.
Commuting to Vancouver takes about one hour. Dedicated bus and high-occupancy vehicle lanes make public transportation and car or vanpooling appealing.
White Rock has two primary schools and in association with neighbouring South Surrey, there are four secondary schools. Recreation facilities and programs are excellent. Some include the Promenade and Centennial Park, with its ice arena, curling rink and ravine trails.
From single-family homes on small lots, to estate lots and multiple family homes; White Rock has a wide selection of housing. Ocean views from some sites are breathtaking. Property values have steadily increased due to White Rock's attractive setting and amenities.