Guest blog by Brian Turner (
http://www.mesothelioma.com/blog/authors/brian/bio.htm
)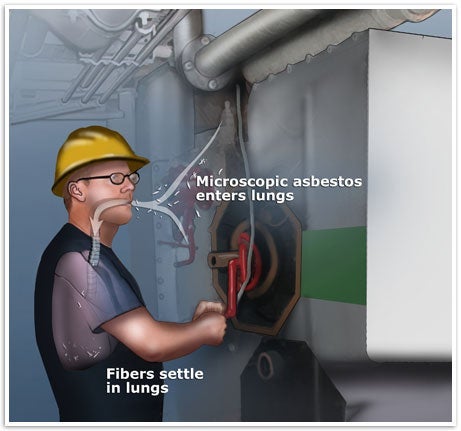 It is not uncommon for older homes to contain asbestos.  This hazardous chemical can be found in walls and in ceilings.  The problem that many people face is the fact that they renovate older homes and stir up a lot of this dust.  First, you need to know what asbestos can cause and where it is normally found.  Next, you will learn how to safely remove asbestos from your home if you happen to be doing renovations.  Keeping your family safe and unexposed to asbestos should be a priority in your home while you are renovating the structure.
Asbestos can cause mesothelioma, which is a cancer that develops over an extended period of time.  The asbestos is breathed in by the person exposed and this fine powder can cause cancer later on in life.  Unfortunately, mesothelioma is not a quick cancer that shows itself immediately.  Many people have lived for decades after asbestos exposure without any visible signs of the cancer.  Mesothelioma also has very strong symptoms that often show themselves when the cancer is in its later stages.  You should get checked by a doctor if you have been exposed to asbestos at any point in your life.
When dealing with an older home, there is a good chance that there is asbestos in the walls and in the ceiling.  Before you begin removing these things, you will need to hire a company to do an evaluation for you.  This type of company will be able to test the walls and ceilings to see if there is asbestos in them.  Oftentimes, you will hear back from one of these companies within a matter of days after they do their inspection.  Knowing if there is asbestos or not in the walls will help you when you are beginning your renovation projects.
If your home does contain asbestos, there are a couple of options available to you.  The first thing you may want to consider doing is to hire an actual asbestos cleaning company to do the work for you.  These companies know how to handle this dangerous powder and will rid your entire home of the substance before it becomes a hazard to your loved ones.  These types of companies do charge a fee, but they are well worth using if you have never removed asbestos before and are not entirely sure of what you are doing.
If you do decide to remove the asbestos in your home, you should make sure that all loved ones and animals are out of the house.  Be sure to wear all of the proper protective equipment, such as goggles and masks.  You should also be wearing coveralls so that you protect the clothes that you are wearing as well as your hair.  Protecting yourself is essential when you are removing asbestos from an older home; so do not be afraid to work with professionals in getting it out of the house. Only a professional company will guarantee that all asbestos is taken out of the home.