More than 50 super-mini suites will be up for sale in Whalley next year.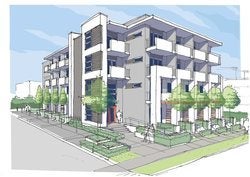 Balance
is a four-storey building with 56 mini-suites averaging about 290 square feet.  The building will be going up in the Whalley area of Surrey, about a seven minute walk from the Gateway SkyTrain Station.
Developer Charan Sethi says his company has done extensive research into affordable housing.  "Through that we figured out there is a desperate need to provide affordable housing for an income level of $22,000 to $55,000 per annum income."
He explains who may be interested in buying a place like this.  "People that don't have the desire to have the expense of a car but they like to go out a lot."
Peter Simpson with the
Greater Vancouver Home Builders Association
feels the Balance development is great idea.
"It's in the city centre as well so it's on public transit.  What this does is it provides first time homebuyers with an opportunity to take that first step onto the property ladder."
Simpson adds this also works for people who may want to downsize, meaning they're looking for a 'lock it and leave it' lifestyle.
All micro-suites will contain five stainless steel appliances, hardwood floors and a balcony.  Pre-sales are expected to start sometime in the New Year.  Contact Danielle if you are interested for more info.