The secret is out! The single most important element in decorating is lighting. 
Most people forget to apply this concept. When preparing a home for sale old lighting fixtures show your homes age. Lighting fixtures set the tone for your decorating theme and add drama. Updating your lighting guarantees a better first impression. The end result is a warm and inviting environment, and ultimately a quicker sale.

Unsure of how to choose lighting? There are several types of lighting. Ambient or general lighting illuminates the whole room, like an overhead ceiling light. Task lighting provides sufficient light to help perform a task, like reading. Accent light is focused lighting, used to illuminate architectural elements or art. Last, but not least is natural light and how it comes in from windows and doors.

The most effective lighting involves layering of all these types. 

Dimmers and switches are the most economical way to coordinate your lighting. When choosing lamps for your home, keep in mind , scale and proportion in relation to your room and furniture size. If you have large chunky night tables you want to have larger bulky lamps to balance the look resulting in a better feel to your room.

Updating a chandelier or entrance way fixture produces a powerful effect. Don't date your home by leaving that old brass or plastic fixture up. Fixture prices have gone down dramatically over the past few years. When choosing a chandelier, pick one with a diameter equal to half the width of your table. When hanging it, ensure it is approximately 30" above the table. So many people make the mistake of hanging them too high, and it just doesn't look or feel right. 

You want to make a great impression on potential buyers. You don't want to be known as the house with the old brass light fixtures. Enhance the beauty of your home, show case it by updating your lighting. Light it up!
Guest blog courtesy of: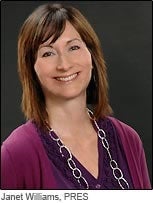 Janet Williams
604.318.5767
Janet has studied interior design, real estate, event planning ,marketing and business.By simplifying and making a house look its best, Janet will transform your home to get it noticed and sold quickly! Buyers make a split-second decision when they pull up to a property. Janet wants to make sure potential buyers fall in love with your house and make an offer.