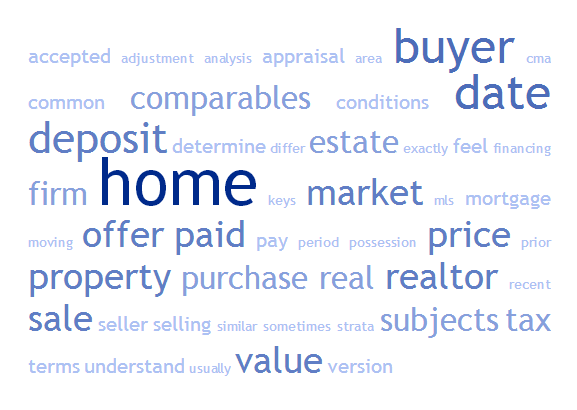 Do you ever feel like your Realtor is speaking another language? Even if you understand the actual words that your Realtor is using - what exactly are they trying to tell you? I always suggest choosing a Realtor that you feel comfortable with, who you not only feel confident is a qualified professional but also someone you can talk to honestly. However it never hurts to understand a few of the common real estate terms and acronyms and what they actually mean.
CMA
Comparable Market Analysis, sometimes called a Market Evaluation. When selling your home this is the first thing your Realtor will provide you with once they have walked through your home. This analysis takes a look at recent sales, current inventory (homes on the market) and any improvements or upgrades to your home and determines what price you can reasonably expect to sell your home for.
COMPARABLES
Comparables are other homes is a similar area with similar characteristics that can be used to determine the price of a home you are selling or considering buying. Comparables help determine the price you should pay for a home or the price you should list your home at.
ACCEPTED OFFER
Now this one is easy, it means that the home has an accepted offer on it. I bring it up as it's important to note that this is NOT a firm sale. An accepted offer is simply a buyer and seller agreeing to terms and conditions of sale (like price and moving dates). The buyer will generally then have a period of time to satisfy themselves that all of their conditions have been met prior to making the sale firm.
SUBJECTS
These are the conditions that a buyer will have in their offer that must be satisfied prior to a firm sale. Subjects will include details like confirmation of financing, a property inspection, or reviewing strata documents. The subject period usually lasts 7-10 days.
COMPLETION DATE
This is the date that the buyer pays for the home and title transfers into the buyers name. If a buyer is financing their purchase with a mortgage this is the date that the bank will advance funds for the mortgage.
POSSESSION DATE
Moving day! Exactly as it sounds, this is the day that you receive the keys for your new home or hand over keys for your old one.
ADJUSTMENT DATE
Usually the same as the possession date, adjustment date refers to the day that you take responsibility for utility payments, property taxes, and strata fees.
DEPOSIT
Almost everyone knows what a deposit is, however I commonly get asked when and how is it paid. This will differ depending on where you live as other areas will have different practices. A deposit can be paid at any time and in a hot (also sometimes called a Sellers') real estate market it is more common to see deposits paid when you write an offer as this illustrates to the seller that you are serious about purchasing their property. Recently, with White Rock and South Surrey homes, deposits have been paid within 24 hours of removal of all subjects, when a sale goes firm. Unless you are purchasing new construction (where the deposit may go to the developer or the developer's lawyer) deposits are paid to the buyer's Realtor's office and held in trust until completion day.
MLS
Multiple Listing Service. There are 2 versions of MLS, one is a public version available online for anyone to use and one is a Realtor version with more features and searching capabilities.
TAX VALUE
This is the value that the government assigns to a home / property for tax purposes. Tax value may or may not reflect the market value of a home as it does not take into consideration improvements to the home and the current real estate market trends.
APPRAISAL
When a buyer is using a mortgage to purchase a home the bank or credit union will often order an appraisal to confirm that the buyer is paying a fair price for the property. Like a mini CMA, this appraisal will assess the value of the home.
Now that you understand a few of the more common real estate terms, get out there and start shopping for your 3 BD, 2 BA, Tandem garage, CDS detached home, with a BI Vac, GDOP, and a walk score of 84 :)
Hmmm... maybe another blog about real estate abbreviations is in my future?
Happy House Hunting!